Founder Spotlight
11.04.2022
Our founders tackle some of the most daunting challenges facing large enterprises. Today, we yield the stage to our visionary CEOs to share how they are solving Future of Work challenges at the enterprise —Allison Robinson, co-founder & CEO of The Mom Project; Tal Clark, CEO of Instant; and Kevin Cornish, founder & CEO of Moth + Flame.
The Mom Project reaches One Million Moms
Allison Robinson was on maternity leave with her first child when she read the statistic that 43% of highly skilled women leave the workforce after becoming mothers. This prompted her to found The Mom Project in 2016, with the hope that one day mothers would not have to choose between parenthood and a career. In 2018, this young company went through Engage's first Cohort and has signed 8 contracts with our corporate partners since.
Six years later, after continuing their push for equity through the COVID pandemic, The Mom Project hit its Millionth Mom! Along with their existing RISE and RALLY programs, they announced the rollout of TMP Reach, a new enterprise offering, designed to provide companies with a large selection of highly skilled and diverse candidates.
"Serving one million mothers marks a wonderful turning point and moment of celebration for The Mom Project. I'm heartened not just by the way that we've grown since 2016, but that we've been able to help working moms weather the storm of the past two years in particular. We're more committed than ever to fighting the biases that we know moms – especially our moms of color – face on a daily basis."
– Allison Robinson
Founder & CEO, The Mom Project
Instant enables Earned Wage Access and Wellbeing
Living paycheck to paycheck became the reality for 58% of Americans. As it becomes apparent that companies can allow their employees to access a part of their pay the same day they earned it, more Americans are opting for this option. In fact, from 2018 to 2022, there was a 30% increase in interest for jobs that offer same-day-pay, from 49% to 79%.
These, as well as other key insights, were findings in Instant Financial's 2022 Wages and Wellbeing study. Founded by Steve Barha, this instant pay platform not only identifies the key problems and needs relating to instant pay through their report but offers a solution as well, working towards their goal of living in a world where living paycheck to paycheck is extinct.
"With responsible on-demand pay, employers have the opportunity to give all employees more control over their financial wellness, and simultaneously reduce the pressure on payroll professionals caused by increased turnover and new hires."
–Tal Clark
CEO, Instant Financial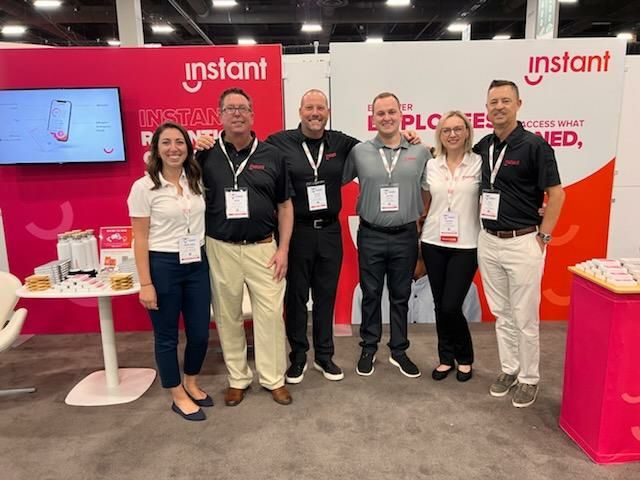 Moth + Flame Featured on 2022 Inc. 5000 List
The Inc. 5000 documents the 5000 fastest-growing private companies in the US. If Engage's Cohort 8 company, Moth + Flame's rapidly increasing client base wasn't enough proof, their placement on the 2022 Inc. 5000 should be a sign that they are just beginning their journey.
Moth + Flame began creating immersive virtual reality experiences for the likes of Netflix and Google in 2015. As the use cases for VR grew, they started to develop training solutions for the public and private sectors. Their most recent partnerships include healthcare giants Wellstar Health Systems and Novant Health, implementing their immersive VR learning series to train employees.
"It's really incredible to see how this virtual reality technology is able to put someone into a real-world experience while giving them a safe space to practice and fail without being self-conscious so they can get better before they have to do it in person."
– Kevin Cornish
Founder, Moth + Flame
???? Highlights from our Portfolio
What we ???? about our Corporate Partners
Coca-Cola partnered with UC Berkeley to develop a way to convert captured CO2 into sugar, with impact to carbon footprint reduction of agricultural ingredients and long-haul space missions.
Cox Enterprises co-led a $56 million Series C round for Carbyne, the leading provider of cloud-native emergency contact center solutions.
Delta released their annual Diversity Report, keeping them accountable in their goal of increasing diversity in leadership. Notable improvements include an increase from 29% to 34% for women in VP and above roles.
Georgia-Pacific announced the construction of a state-of-the-art manufacturing plant for their subsidiary Dixie in Jackson, Tennessee, creating 220 jobs.
The Georgia Institute of Technology received $65 million in funding from the U.S. Economic Development Administration to expand AI research, including a new research facility on Georgia Tech's campus. This grant will increase job opportunities in distressed and rural communities.
Inspire Brands has released their Good Citizens Report in a continuation of effort to meant impact their communities positively. This report highlights Inspire Brands' focus areas: Sustainability, People First, and Community.
Invesco is investing $30 million into a new fund focusing on the Metaverse to invest in large, medium, and small-cap companies that are involved with immersive virtual worlds.
????Our Fall Interns are here
Engage and Tech Square Ventures are thrilled to welcome our fall class of interns! A key component of our mission is to bring hands-on educational opportunities in startups and the innovation ecosystem to more students in Atlanta, and we are proud to add to the number of students impacted every semester.
These interns from the Georgia Institute of Technology, Emory University, and Georgia State University will work in our insights, investments, design, operations, and communications tracks across our team and have the opportunity to learn from top entrepreneurs and corporate executives in the Engage community.