Executive Insights from our Spring Reception
09.02.2022
???? Highlights from our Portfolio
☀️️Welcome to Our Summer Interns
Engage and Tech Square Ventures are thrilled to welcome six talented interns to our team this Summer. Engage's internship program is part of our mission to bring hands-on educational opportunities and exposure to the startups and innovation ecosystem to more students.
These students hail from Georgia Institute of Technology, Georgia State University, Emory University, SCAD, Georgetown University, and Northwestern University and will be taking on roles ranging from design and operations to investment and research. We look forward to working with these incredible students!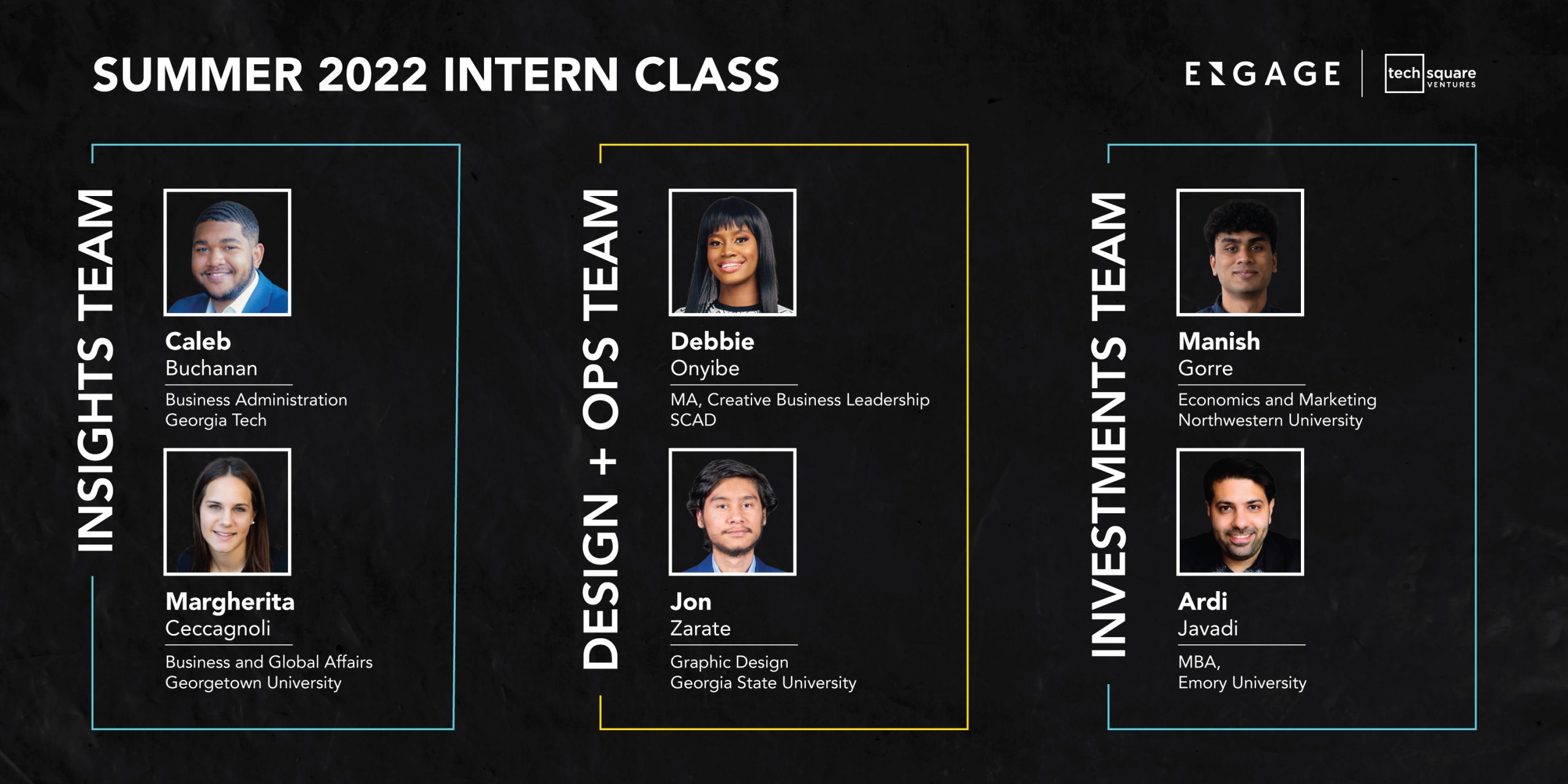 What we ???? about our Corporate Partners
The Home Depot
revealed a
$150-million fund
to fuel innovation in retail and home improvement.
Delta Air Lines CEO, Ed Bastian and Georgia Tech President, Ángel Cabrera – both Engage board members – discussed how businesses can make positive changes to address climate change.
Georgia Power was the first corporation to issue an Equality Progress Sustainability Bond designed to advance racial equity, economic opportunity, and environmental sustainability.
Georgia Tech's CREATE-X hit a new milestone with more than one hundred student and faculty startup teams accepted into the summer 2022 Startup Launch program.
Coca Cola unveiled a new bottle cap design overseas, aimed at reducing waste and curbing litter.
Goldman Sachs doubled its diversity recruiting team and increased its budget by ten million dollars to help meet its goals and add more women, Blacks, and Latinos to its workforce
UPS CEO Carol Tomé was featured by The Atlanta Business Chronicle, highlighting five ways she has been a visionary leader for Atlanta.