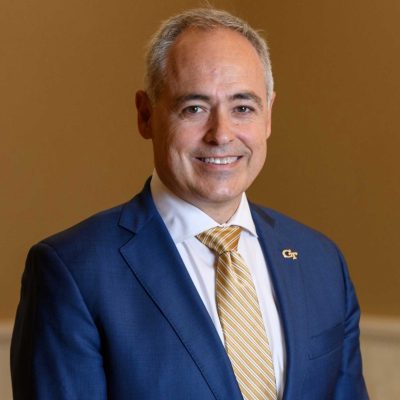 Angel Cabrera
President, Georgia Tech
Ángel Cabrera is the 12th president of the Georgia Institute of Technology. Cabrera came to Georgia Tech on Sept. 1, 2019, after serving for seven years as president of George Mason University (GMU) in Fairfax, Virginia.
A top-10 public research university in the U.S., Georgia Tech has outstanding programs in business, computing, design, engineering, liberal arts, and the sciences. With 40,000 students and more than 170,000 living alumni who work in business, industry, and government throughout the world, Georgia Tech has become internationally recognized for the quality of its educational and research programs.
Under his leadership, more than 5,700 members of the Georgia Tech community contributed to a new 10-year strategic plan that launched in November 2020. The plan is grounded on a new mission statement that reaffirms Tech's commitment to "developing leaders who advance technology and improve the human condition."
As the president of Georgia Tech during the Covid-19 pandemic, he is leading the Institute through one of the most critical times in its history to prioritize the health and safety of the Tech community and to develop innovative solutions to combat the disease.
Under his leadership at GMU, the university accounted for more than half of all enrollment growth in Virginia, increased student outcomes, and joined the top tier of research universities in the Carnegie Classification. From 2004 to 2012, Cabrera served as president at Thunderbird School of Global Management, now part of Arizona State University. Between 1998 and 2004, he was dean of IE Business School in Madrid.
As a business educator, Cabrera has played a key role in advancing professional ethics, internationalization, and corporate social responsibility. In 2007, while serving as a senior advisor to the United Nations Global Compact, he was the lead author of the "Principles for Responsible Management Education" (PRME). A United Nations–supported initiative that advances sustainable development through management education, PRME has now adopted by more than 800 schools around the world. He is also a co-founder of the University Global Coalition, a global network of universities working in partnership with the United Nations in support of the Sustainable Development Goals.
He's been named a "Young Global Leader" by the World Economic Forum, a "Star of Europe" by Businessweek, a "Henry Crown Fellow" by the Aspen Institute, and a "Great Immigrant" by the Carnegie Corporation of New York. He has received honorary degrees from Miami Dade College and Universidad Politécnica of Madrid.
Cabrera serves on the boards of the National Geographic Society, the Atlanta Committee for Progress, the Bankinter Foundation for Innovation, and the Metro Atlanta Chamber.
Cabrera earned his M.S. and Ph.D. in cognitive psychology from Georgia Tech, which he attended as a Fulbright Scholar. He also holds a telecommunications engineering degree (B.S. and M.S. in computer and electrical engineering) from Universidad Politécnica de Madrid. He has published extensively in academic journals and has been featured or quoted in leading media around the world.
He is married to management scholar and Georgia Tech classmate Elizabeth. Their son Alex is a recent Georgia Tech graduate and currently a Ph.D. student at Carnegie Mellon University. Their daughter Emilia is a senior at Harvard University. Cabrera is the first native of Spain to serve as president of an American university.